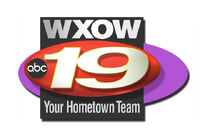 WXOW News 19 stopped by OMS today to get the inside scoop on how BYOD (Bring Your Own Device) will impact the school and how students will benefit from this great program.
The reporter from the TV station followed Mr. Hilker and I through several different 8th grade classrooms as we spoke to students about benefits and expectations of the program.
Here
is the link to the story.
The video below is a Texas school district's take on why they are using a BYOD program:
Just remember, BYOD officially starts Tuesday, January 24th.
Mr. K